A remarkably affordable, remarkably feature rich tablet.
Packed inside the Cruz T301's smart, refined design are specs and features enough to go head to head with any tablet PC on the market.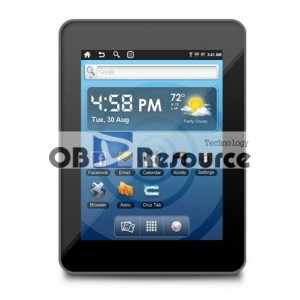 Ultra responsive capacitive touch screen and dual core processor lets you navigate the installed Android 2.2 operating system with ease.
Ereader content via the Kindle for Android app gives you access to the largest selection of the most popular books. Access to the Amazon Appstore lets you install the newest applications with just a tap.
Whether on the go, at home, or at work, the Cruz T301 is the perfect complement to your mobile lifestyle. Backed by Velocity Micro's expert US-based support.
Display 7″ TFT Capacitive Touch
Aspect Ratio 4:3 (800X600 pixels)
Dimensions 7.5″x 5.6″x .57″
Operating System Android 2.2
Browser Yes
Accelerometer Yes
RAM 256 MB
Built-In Storage 2 GB
Memory Cards SD/SDHC
Wireless 802.11n Wi-Fi
Battery Life 6 Hours of Video
Audio Playback MP3, AAC, WAV
Video Playback MPEG-4, AVI, MOV
Reader Formats PDF, TXT, HTML
Stand Included
$199.00 tax incl.

http://obdresource.com/tablet-ipad/398-cruz-t301-7inch-tablet-ipad-OBDCRUZ301.html